Hathaway-Sycamores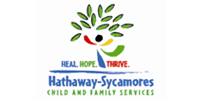 Hathaway-Sycamores Child and Family Services is a leader in responding to the needs of the community and in providing innovative services and programs that build on the strengths of children and families. Hundreds of staff members, including parents whose children have been recipients of service, provide support to children and their families with a variety of programs and locations throughout Los Angeles County. These programs include Family Resource Centers, The Center for Grief and Loss for Children, School-Based Mental Health Services, Non-Public School, In-Home Services and Full Service Partnerships , Transitional Independent Living Services, Therapeutic Behavioral Services, Residential Services, Foster Care & Adoption Services, PACE (Partnerships and Community Engagement), and Outpatient/Psychiatric Services.

Volunteer Opportunities:
Mentor: Establish and maintain a supportive relationship with a youth or with a transitioning young adult as they face the many challenges associated with transitioning into adulthood. Mentors provide youth with a positive role model, support, encouragement and guidance. Must be age 21 or older, have valid California driverís license, current registration, good driving record, and proof of current automobile liability insurance. Must be able to relate to young people and develop positive relationships with them with the ability and commitment to be non-judgmental. Must be able to communicate with a range of people. Minimum 8 hours per month through weekly visits or phone contact. Minimum one-year commitment preferred.
Tutors: Work 1:1 with students during school hours in the on grounds non-public school or with a student during flexible after school hours in their cottage or foster home.
Parent Seminar Volunteer: Engage in a variety of activities with foster youth ages 4-17 while their caregivers attend foster parent trainings. These trainings occur once a month in the evening from 6-9 pm.