SHOP 'TIL YOU DROP WITH FOSTER CHILDREN ON JULY 28
Volunteers are needed to serve as personal shoppers for children in foster care to help them get ready for the coming school year. FCP is holding its annual Shopping Spree on Saturday, July 28, from 8 -11:30 a.m. Each volunteer will accompany a foster child to help choose back-to-school clothes, using a $200 gift card. Volunteers must be 18 or older and pre-registered.


FIND OUT HOW TO MAKE A DIFFERENCE IN THE LIFE OF A CHILD IN FOSTER CARE AT THE CASA INFORMATION SESSION: July 25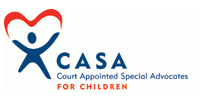 Court Appointed Special Advocate (CASA) volunteers make a difference in the lives of children who have been removed from their homes due to abuse, neglect or abandonment. CASA volunteers receive special training and are appointed by a judge to advocate on behalf of a child in foster child in both the courtroom and the community, with often life-changing results. Join CASA of Los Angeles for an information session on July 25th from 6:00-7:30 p.m. at All Saints Church.