SHOP 'TIL YOU DROP WITH FOSTER CHILDREN ON JULY 28
Volunteers are needed to serve as personal shoppers for children in foster care to help them get ready for the coming school year. FCP is holding its annual Shopping Spree on Saturday, July 28, from 8 -11:30 a.m. Each volunteer will accompany a foster child to help choose back-to-school clothes, using a $200 gift card. Volunteers must be 18 or older and pre-registered.


MAKE SUMMER FUN FOR CHILDREN IN FOSTER CARE
FCP's caseworkers in the Adopt a Child Abuse Caseworker (ACAC) Program have requested fun and educational toys and games for the school-age children in their caseloads. (They want to make sure that the children don't lose too much academically over the summer). Water play toys for keeping cool would also be welcome.


FIND OUT HOW TO MAKE A DIFFERENCE IN THE LIFE OF A CHILD IN FOSTER CARE AT THE CASA INFORMATION SESSION: July 25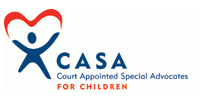 Court Appointed Special Advocate (CASA) volunteers make a difference in the lives of children who have been removed from their homes due to abuse, neglect or abandonment. CASA volunteers receive special training and are appointed by a judge to advocate on behalf of a child in foster child in both the courtroom and the community, with often life-changing results. Join CASA of Los Angeles for an information session on July 25th from 6:00-7:30 p.m. at All Saints Church.


MENTOR A YOUNG MAN AT HATHAWAY-SYCAMORES
Help a young man without immediate family support deal with day-to-day challenges. Hathaway-Sycamores, Child and Family Service is seeking mentors for their El Nido (Altadena) Residential Campus. Flexible hours are available. The Hathaway-Sycamores mission is to help cultivate hope and resilience to enrich the well-being of children, adults, families, and communities.


PROVIDE BACKPACKS TO STUDENTS IN FOSTER CARE
Once again, FCP is providing backpacks to students in our "adopted" caseworkers' caseloads. We will supply the student's age, first name, gender and specific interests, as well as a list of suggested age/grade-appropriate items. Volunteers supply backpacks stuffed with supplies to help our students get off to a good start. We then send each donor a receipt for tax purposes. The project wraps up the last week in July.