Young and Healthy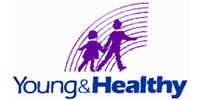 Young & Healthy provides free access to quality health care for uninsured and underserved children from low income families in the greater Pasadena area through community and professional health care volunteers.

Professional Volunteer Opportunities: Young & Healthy needs the help of health care volunteers to provide free health care to children without insurance. Professional volunteers see children in their own offices and have the option to accept our referral calls only when convenient for them and their staff.

We are in need of the following types of professional volunteers:
Physicians
Dentists
Optometrists
Mental Health Professionals
Pharmacists
Community Volunteer Opportunities:
First Grade Dental Education Program: Receive training and supplies to make 30-minute presentations once a month (Oct-May) to first graders about oral health.
Special Events: Work at health fairs & community events including USC mobile dental clinic, immunization clinic and dental screening days.
Translation: Provide translation for families at their children's appointments.
Transportation: Provide transportation for children and families to their children's doctor appointments.
Young & Healthy Office: Help with clerical tasks and projects as needed.